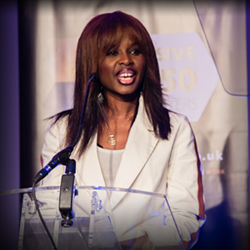 Equality is good for everyone — not just those who are discriminated against. The great reckoning on the gender pay gap is the latest example. This week we've seen more companies — including many in the City and the media — reporting on the true extent of unequal pay at work. Many of the figures are shocking and they have got to change. Women are no longer willing to tolerate being paid less for the same work.
Companies are promising to fix things but it's clear that the Equal Pay Act — although updated in 2010 — is not effective enough. Research I commissioned from the London School of Economics found that women and men from minority ethnic groups would earn £9,300 extra if their pay matched that of white British men.
On top of that, current data does not take account of all sorts of things that affect pay equality. Bonus packages, appraisal processes and promotions are based on subjective data that discriminates against women with family commitments, such as tacit rewards for out-of-hours working.
So as a society we need to look again at both who we value and how we value them. David Cameron made marriage equality one of his legacies. Now Theresa May has a chance to create genuine gender parity. As our second female prime minister she is the right person to get this right.
But it is not just equality between men and women that matters. Even among women, pay discrimination exists. Disabled women, LGBT+ women, non-white and working-class women can find themselves discriminated against in terms of pay. I've written a book on the importance of achieving diversity.
It is a particular issue for London. Not only are many of the companies failing to deliver equal pay based here, but it is also one of the most expensive cities in the world in which to live. If we want to continue to attract the best talent, we need to get pay right. Continued failure will simply see talent drain away as both men and women choose to work in places that recognise their contributions and those of their partners.
So I welcome Mayor Sadiq Khan's #BehindEveryGreatCity gender equality campaign. But it would be better still for this year-long effort to be followed up with practical support that will help women compete fairly.
More subsidised childcare, better education and training about the benefits of diversity and pay parity in the workplace, and regular monitoring of our progress towards closing the gender pay gap, all matter. Research shows that equality makes society stronger. As the great anthropologist Margaret Mead so eloquently put it: "Every time we liberate a woman, we liberate a man."
(Image: June Sarpong at EiDA17)
Source: June Sarpong (Host of the 2017 Excellence in Diversity Awards)