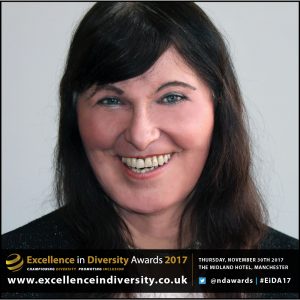 2017 Shortlisted Nominee:
Lifetime Achiever Award –
Jenny-Anne is Chairperson for TransForum and Unique, graduated in Industrial Chemistry and retired as a sales/marketing manager in advanced scientific instruments. A dedicated Trans activist for over 25 years, her time is spent advocating for the inclusion and equal treatment of all gender diverse people. With partner Elen, she runs the Trans community house in North Wales, has appeared numerous times on radio, television and within magazine and newspaper articles campaigning for fair media treatment and representation of all gender non-conforming people. Through close links with GIRES, she advises the Parliamentary Forum on Gender Identity, the Welsh Government Equality Forum, and was deeply involved in Sparkle, the largest free international event for Transgender people. Jenny-Anne has co-authored various health reports and guidance policies on Trans and LGBT issues for NHS England, Department of Health, NHS Wales, Police forces and the Prison & Probation Service. She was awarded the OBE in 2015 for her tireless campaigning and equality work.
---