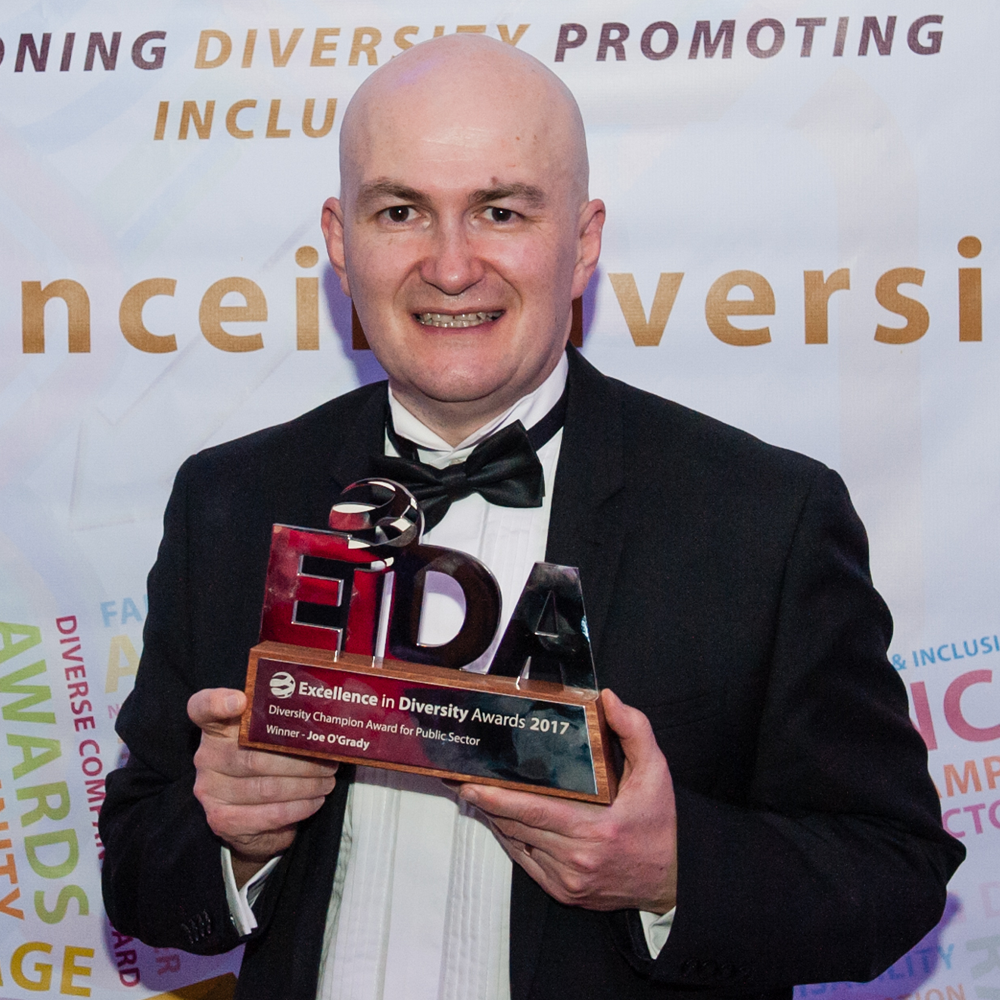 I was very honoured and absolutely thrilled to receive the EIDA Diversity award in the Public Sector category, in November 2017. Having previously won the national award for Inclusive Leadership in the NHS from the NHS Leadership Academy in 2015, it was fantastic to win a multi sector accolade for my work on Equality and Human Rights and from such an inclusive and well respected body, the EIDA.
Winning the award is also a huge reward for my employer the Countess of Chester Hospital NHS Foundation Trust and it really feels that all our engagement with so many stakeholders from across the range of the protected characteristics was especially accredited.
The award has been a source of pride for our Trust, for all our staff equality champions in the hospital and the many charities and third sector agencies whom we work closely with on the challenging equality agenda. I have been praised by the Chief Executives Officer Tony Chambers, his Executive Board and our Council of Governors. I also attended a special meeting with our Trust Chairman Sir Duncan Nichol, who wanted to find out about the EIDA awards event and all the work we have undertaken on equality and Human Rights in our Trust for the past 6 and a half years that I have been in post here. There was lots of social media and internal communications and for many weeks, staff would stop me in the Hospital to congratulate me on the award.
Winning the Diversity Champion award has also helped in my latest career pathway significantly. The HR Directors from across the Cheshire and Merseyside NHS regions have specifically chosen me to undertake a 12 month secondment from March 2018, to map out and formulate a new equality governance framework for NHS providers, across Cheshire and Merseyside. They fed back to my HR Director that my experience and the high performance of the Trust added to the national accreditation I had received in winning the EIDA award, had influenced their decision. The EIDA awards are a kite mark of excellence that in effect, has been very influential in helping me to secure this exciting and challenging role.
So thanks to the EIDA awards. Not just for it being a reward for all the equality and human rights work that we undertake at the Countess of Chester but also for the accreditation being a vital component in helping HR the Directors in the Cheshire and Merseyside NHS region select me for a new and innovative work opportunity in 2018-2019!
---