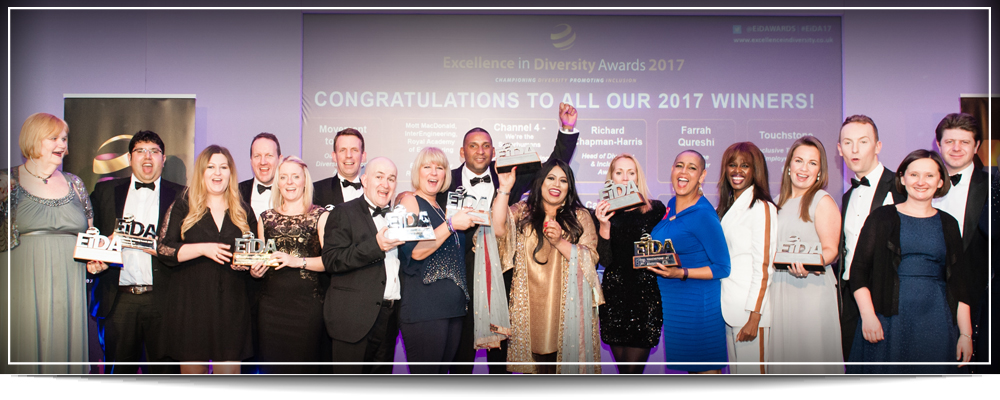 Congratulations to all our Excellence in Diversity Awards 2017 winners.
Well done!
Please click on the winners image to view their bio.
---
DIVERSITY CHAMPION AWARDS
Recognises an individual who has shown outstanding initiative to promote diversity internally and externally, making a positive difference in other's lives through significant contributions to social justice, equality and diversity.
---
LIFETIME ACHIEVER AWARD
Honours an individual who has devoted a major portion of their professional life to enhancing the practice of equality and diversity, making significant, innovative, and cumulatively outstanding contributions to the cause.
---
OUTSTANDING DIVERSITY NETWORK AWARD
Identifies the outstanding contribution of an employee network that has tackled issues internally or externally to influence change in the field of equality and diversity.
---
BEST DIVERSITY RESOURCE AWARD
Recognises an organisation that has shown outstanding dedication to supplying diversity related resources such as jobsites, diversity training programmes, e-learning and diversity marks.
---
EMPLOYEE OF THE YEAR AWARD
Showcases the excellent commitment an employee has made into actively developing an inclusive workplace for fellow employees – where fairness, respect, equality, dignity, and autonomy are at the forefront of their values and promoted as part of their everyday goals and behaviour.
---
DIVERSITY MARKETING CAMPAIGN OF THE YEAR AWARD
Marketing has a major role in communicating the value of a product to the British public, and this award identifies an innovative marketing campaign that has challenged discrimination and reflected the diversity of the UK through radio, television or print campaigns.
---
HEAD OF DIVERSITY & INCLUSION AWARD
Highlights the excellent achievements of the Head of Diversity within a particular organisation that has shown leadership, commitment and motivation – driving the diversity agenda throughout an organisation and the wider community.